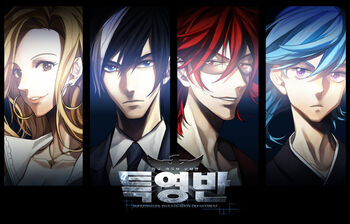 Supernatural Investigation Department (manga) Wiki is a wiki about Supernatural Investigation Department. This open source format allows anyone to create or edit any article, effectively making this endeavour a team project. Check out the FAQ to help you get started! This site also contains SPOILERS. Read at your own risk.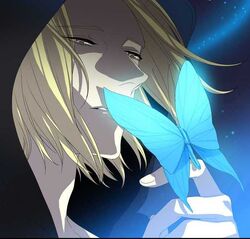 For the first 45 chapters, he wasn't known by any name, but his power was felt in full. He's been set up as the antagonist and his presence has been felt since the first chapter, but little is actually known about him, his powers, or his intentions. Now that he and Somos are intervening, it could spell doom for the protagonists, but it just might mean more answers about him and his organization... Care to learn a little more?!

Chapter 045 sees Simoon make a break in the Gapcheol murder case, and he, Tenka, Baram, and Sophia set out to find the body of his victim. |}
Daum

Foxtoon

KakaoPage

Lezhin

Naver

---
Community content is available under
CC-BY-SA
unless otherwise noted.